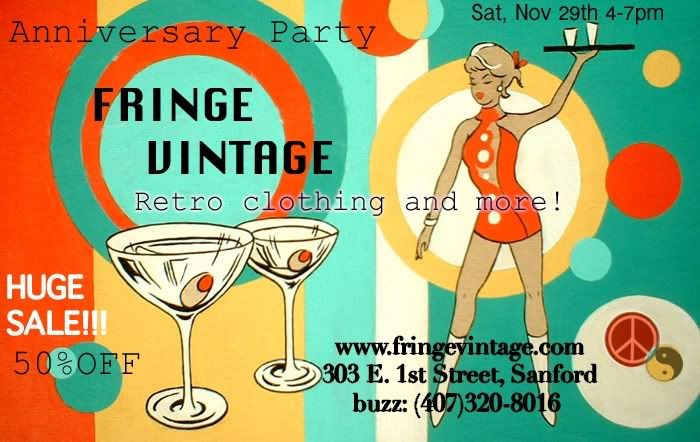 Here's one way to
shop local for the holidays
. Saturday November 29 is "Shop Local in Sanford" Day*. Bunch of stuff going on.
Sanford's Farmer's Market and the Arts & Crafts Market in Magnolia Square with (the big green clock) 9am-2pm.

Fringe Vintage's 1-year anniversary "Green Friday," half-off sale includes live music, punch, grog & "Scoobie snacks." (4-7pm at 303 E. 1st Street, Sanford, FL 32771, More Info: 407-320-8016.)

Plus near Fringe Vintage, there are even more funky shops:

Little Fish Huge Pond

: eclectic, funky Art Bar with imported beer, wild art & outrageous stories



Divine Mother Earth

: the quaintest New Age/Hippie Shop with imported garments & teas from Brazil



Shreve & Company

: selling timeless, historic homes in the Sanford area with classic service



Emerald Treasures

: an everything green store- opening soon.



Resurface

: a furniture & design store, antique to mid-century modern & eclectic
*This is not an official designation. I just made the name up cuz it's local and there seems to be a few events happening that day.