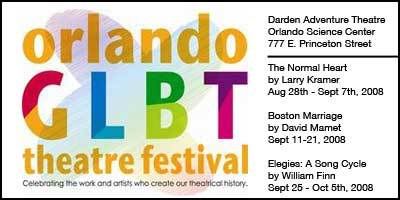 UPDATE 8-17-08: ONLY ELEGIES WILL BE PERFORMED PER THE PRODUCERS
When
August 28th - October 5, 2008
Venue
Darden Adventure Theatre at the Orlando Science Center, 777 E. Princeton Street
Ticketing
At this time, tickets are only available by check or money order via USPS. Request an or der form:
orlando.glbt.theatre.fest@gmail.com
. Tickets available in person on the day of performances, but only advanced sales guarantee the best available seating. Credit card purchasing will be available soon with the addition of a processing fee. Season tickets are available at three levels - $60.00 for adults; $48.00 for seniors; and $36.00 for students. Individual tickets are $24.00 for adults, $20.00 for seniors, and $16.00 for students with valid identification.

"An angry, unremitting and gripping piece of political theatre." – NY Daily News.

"Like the best social playwrights, Kramer produces a crossfire of life and death energies that illuminate the many issues and create a fierce and moving human drama." – Newsweek.
The Normal Heart by Larry Kramer – (August 28th through September 7th, 2008) - Originally produced by the The New York Shakespeare Festival, the company had a huge success with this searing drama about public and private indifference to the AIDS plague and about one man's lonely fight to awaken the world to the crisis. Ned Weeks, an autobiographical form of the playwright himself, is a gay activist enraged at foot dragging of public officials and the gay community. While trying to save the world from itself, he confronts the toll of AIDS as the disease slowly attacks everything surrounding him. This is more than a play about a gay issue; it is a historical plea about a public health crisis affecting everyone.
Directed by Lester Malizia, The Normal Heart features Andrew Bailes, Taylor Jeffers, Blake Logan, Matthew MacDermid, Benjamin Zep Misek, Tom Nowicki, Peg O'Keef, Derrick Peterson, and Richard Width.
"Mamet's characters are at each other's throats with a wit akin to characters out of Wilde and a vengeance not unlike those from Pinter, Edward Albee, or Mamet himself." – Boston Globe

"Devastatingly funny…exceptionally clever…demonstrates anew Mamet's technical virtuosity and flexibility." – NY Times
Boston Marriage by David Mamet – (11th of September through September 21st, 2008) - Anna and Claire are two bantering, scheming "women of fashion" who have long lived together on the fringes of upper-class society. Anna has just become the mistress of a wealthy man, from whom she has received an enormous emerald and an income to match. Claire, meanwhile, is infatuated with a respectable young lady and wants to enlist the jealous Anna's help for an assignation. As the two women exchange barbs and take turns taunting Anna's hapless Scottish parlor maid, Claire's young inamorata suddenly appears, setting off a crisis that puts both the valuable emerald and the women's futures at risk. To this wickedly funny comedy, Mamet brings his trademark tart dialogue and impeccable plotting, spiced with Wildean wit.
Directed by Christine Robison, Boston Marriage features Alexis Jackson, Leander Suleiman, and Erika Wilhite.

"Despite all the pain, Mr. Finn insists on looking at the bright side…acknowledges that all things must past, the line that resonates long after the final note has been sounded declares, 'The ending is not the story.'" – NY Times.
Elegies: A Song Cycle by William Finn
– (September 25th through October 5th, 2008) - Elegies is William Finn's heartbreaking, funny, and incredibly moving musical celebration of the lives of those we have lost to AIDS, to cancer, to diabetes, and the horrible events surrounding September 11, 2001. Finn, the famous out composer of the critically acclaimed and award winning Falsettos, The 25th Annual Putnam County Spelling Bee, A New Brain, and more, has created a series of songs that manage to touch anyone who has ever suffered the loss of anyone close to them all the while focusing on the tender and uplifting moments that make those losses so profound. An exhilarating and remarkable evening of theatre.
Directed by Matthew MacDermid, with musical direction by Steve MacKinnon, Elegies features Shannon Bilo, Juan Cantu, Adam Galarza, Luerne Herrera, and Michael Walters.